Studieren an der Schweizer Strathclyde Business School
Veröffentlicht am 19. November 2019
Die University of Strathclyde Business School – Swiss Centre ist für all jene Studieninteressierte ein heißer Tipp, die sich für ein berufsbegleitendes MBA-Studium in der Schweiz interessieren. Diese Bildungseinrichtung besteht seit 1996 und wird nahe dem Zürich-Airport von der Swiss Management Forum AG geleitet.
Die Wurzeln der Strathclyde Business School liegen im britischen Glasgow und dort an der University of Strathclyde, die schon 1964 mit der Royal Charter versehen wurde. Vor diesem geschichtlichen Hintergrund wundert es nicht, dass auch an der Schweizer Strathclyde Business School Dozenten unterrichten, die sich zum überwiegenden Teil eines Studienjahres in Glasgow aufhalten. Für die Lehrveranstaltungen in Zürich reisen die Dozenten jedoch direkt aus Glasgow an, um so auch die Schweizer Studenten fundiert im Fach Betriebswirtschaftslehre mit dem Schwerpunkt der strategischen Unternehmensführung ausbilden zu können.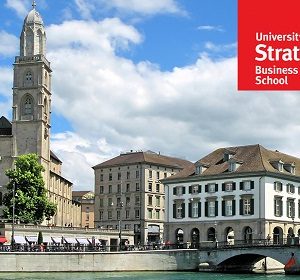 Für das Studium des Strathclyde MBA benötigt man einerseits einen ersten Universitäts- oder Fachhochschulabschluss und zumindest 3 Jahre Management- sowie Projetmanagement-Erfahrung. Ist der Nachweis des erwähnten Abschluss nicht möglich, so kann dieser auch mit einer 10-jährigen Managementerfahrung kompensiert werden. Ein Muss sind in jedem Fall gute Englischkenntnisse, schließlich wird das gesamte Programm in englischer Sprache gelehrt. Nicht nur die Kompetenz der Professoren ist hervorragend, die Strathclyde Business School ist außerdem eine von nur 55 weltweiten Business Schools, die gleich 3 internationale Akkreditierungen besitzt, nämlich AMBA, AACSB und EQUIS.
Auch nach dem Studium ist eine hervorragende Betreuung gewährleistet, denn den Absolventinnen und Absolventen stehen die internationale Alumni Organisation der Strathclyde Business School sowie die lokale Alumni-Organisation (SMAAS) zur Seite. Über letztere können Sie sich außerdem über potenzielle Arbeitgeber informieren und zusätzlich gibt es auf dem Hauptcampus in Glasgow ein Career Support Centre, welches von allen Studierenden genutzt werden kann. Detaillierte Informationen zum Strathclyde MBA finden Sie hier.
Text-Quelle: ESA GmbH
Bild-Quelle: Strathclyde Business School