Die University of Cologne Business School bietet maßgeschneiderte Weiterbildungsprogramme für Unternehmen
Veröffentlicht am 21. April 2022
Im Rahmen dieser Unternehmensprogramme werden die Mitarbeiter*innen gefordert und gefördert, um ihr volles Potenzial entfalten zu können.
Sie sind auf der Suche nach einer Vielfalt an Themen? An der University of Cologne Business School profitieren Sie von verschiedenen Schwerpunkten – von der Energiewirtschaft, über digitale Innovation bis hin zum Gesundheitswesen. Auf die diversen Bedürfnisse eines Unternehmens wird an der Business School stets individuell eingegangen.
Vorab nehmen die Mitarbeiter*innen sich umfassend Zeit, diese genauestens zu analysieren und zu verstehen. Gemeinsam erarbeiten wir schrittweise das ideale Programm für Sie und Ihre Mitarbeiter*innen.
Bringen Sie Ihr Unternehmen mit einem maßgeschneiderten Unternehmensprogramm der Business School der Universität zu Köln strategisch weiter und erhalten Sie einen langfristigen Gewinn.
Ziel ist es, in Zusammenarbeit mit Ihnen ein Programm zu planen, das ganz auf die individuellen Bedürfnisse und Abläufe Ihres Unternehmens angepasst ist. Ihre Mitarbeiter*innen werden sich nachhaltig weiterentwickeln – ein Mehrwert, von dem Sie noch lange profitieren. Diese Kundenbezogenheit findet bei uns in mehreren Bereichen statt:
Inhalte
Gemeinsam wählen wir die Inhalte und Themen, die genauestens auf Ihre Branche passen und betten sie maßgeschneidert in den Kontext Ihres Unternehmens ein.
Lehrmethoden
Durch praxisnahe Lehrmethoden können Sie die neu erworbenen Inhalte direkt auf Ihr Unternehmen anwenden. Sie bearbeiten unterschiedliche Fallbeispiele, die Ihnen so auch in Ihrem Geschäftsalltag begegnen. Hierbei arbeiten Sie nicht nur mit Expert*innen der Universität zu Köln und anderen Institutionen zusammen, sondern ebenso mit Fachleuten aus den relevanten Branchen.
Teilnehmende
Wir passen die Seminare ganz an die Wissensstände und Erfahrungen Ihrer Mitarbeiter*innen an. Gelangen Sie so strategisch und effektiv an Ihr individuelles Weiterbildungsziel. Internationalität ist ein Fokus unserer Lehrenden: ein Benefit für die kulturelle Vielfalt in Ihrem Unternehmen.
Unternehmenskultur
Vom mittelständischen Unternehmen bis zum Start-up: So vielfältig wie Unternehmen sein können, sind auch unsere Weiterbildungslösungen. Gemeinsam erarbeiten wir Methoden, durch die Sie lernen mit Veränderungen in Ihrer Unternehmenskultur umzugehen.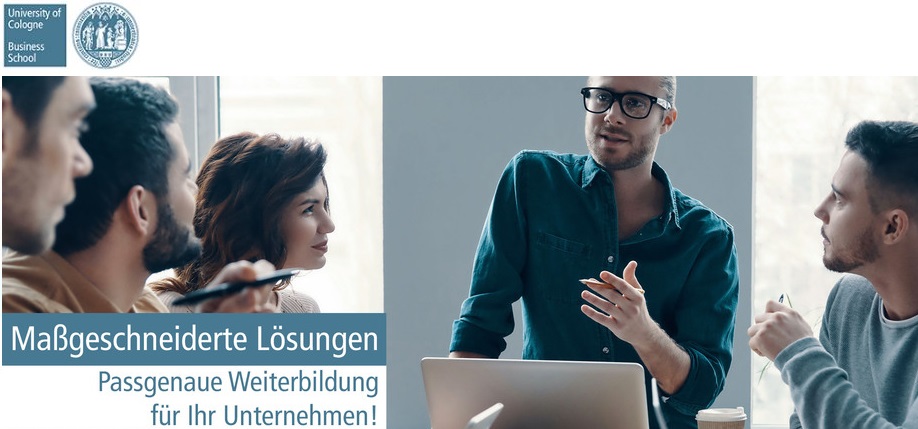 Warum die Business School der University of Cologne?
Themenvielfalt
Nutzen Sie unsere Vielfalt an unterschiedlichen Fokusthemen aus. Gemeinsam stellen wir so das ideale Weiterbildungsprogramm für Ihre Mitarbeiter*innen zusammen. Wählen Sie alternativ eines unserer Zertifikatsprogramme oder Seminare. In enger Zusammenarbeit mit Ihnen passen wir dieses an Ihre Wünsche und Bedürfnisse an.
Lehrende
Wir bieten Weiterbildungen auf dem neuesten wissenschaftlichen Stand. Unsere international anerkannten Professor*innen und Dozent*innen arbeiten mit innovativen und zukunftsorientierten Lehrmethoden. Ihre Themenspektren reichen von Entrepreneurship, Leadership, Smart Mobility, Process Management bis hin zu Healthcare.
Erfahrung
Die Business School der Universität zu Köln kann bereits auf zahlreiche Kooperationen mit Unternehmen aus den unterschiedlichsten Branchen zurückblicken. Von Energieversorgen bis zu überregionalen Klinikgruppen – so breit gefächert wie unsere Themen, ist auch unser Spektrum an Kunden. Geben Sie Ihre Weiterbildung in erfahrene Hände, wenn es um die Erstellung eines maßgeschneiderten Unternehmensprogramms geht.