Über den MBA-Markt in der Corona-Krise
Veröffentlicht am 17. Dezember 2020
Die Pandemie behält die deutschen Business Schools fest im Griff: Während im Sommer 2020 die meisten von ihnen auf hybriden Unterricht umgestellt haben, zeigen sich im Herbst unterschiedliche Zukunftsstrategien. Einige Business Schools könnten in der Corona-Krise vom Markt verschwinden, hieß es noch vor einigen Monaten. Doch das MBA-Geschäft erweist sich bisher als sehr robust, die Bewerberzahlen sind so hoch wie nie. Die Studie "Business of Branding" des Beratungsunternehmens Carringtoncrisp stellt den Schulen international ein recht gutes Zeugnis aus: Im Großen und Ganzen hätten sie schnell und effektiv auf Fragen der Studierenden reagiert, die sich aus der Pandemie ergaben.
Campus-Lehre im Teil-Lockdown
In Deutschland gehen die Schulen mit den Corona-Maßnahmen unterschiedlich um. An der Mannheim Business School findet nach einer Phase des Hybrid-Unterrichts im November 2020 keine Präsenzlehre statt. Dort greifen die strengen Vorgaben der Universität, dass nur Kurse durchgeführt werden dürfen, wenn keine Online-Vermittlung möglich ist. "Die Vollzeit-MBAs des letzten Jahrgangs konnten ihre Wahlfächer und Masterprojekte im Frühjahr und Sommer online abschließen", erklärt Marketingdirektor Ralf Bürkle. Die neuen Vollzeit-Studierenden starten im Januar 2021.
Auch an der HHL Leipzig Graduate School of Management finden während des Teil-Lockdowns keine Präsenzveranstaltungen statt. "Wir waren gut vorbereitet und hatten uns schon mit einem Covid-Stufenplan selbst strengere Auflagen erteilt, als bundesweite Maßnahmen es vorsahen", erklärt Pressesprecherin Eva Echterhoff. Auch die HHL hatte bereits im Sommer 2020 das Vollzeit-MBA-Programm, in dem ein hoher Prozentsatz der Studierenden aus Ländern mit schwierigen Corona-Situationen kommt, auf Januar 2021 verschoben. Alle anderen Programme finden wie geplant statt.
Revolutionäre Neuheiten bei der Online-Didaktik der Business Schools?
Die Frankfurt School of Finance & Management hielt den Betrieb im Frühjahr 2020 am längsten aufrecht und bietet nun auch im Teil-Lockdown noch Präsenzunterricht im Hybrid-Modus. Studierende können wählen, ob sie unter strengen Hygiene- und Abstandsregeln auf dem Campus oder online studieren möchten. Auf diese Weise konnten alle MBA-Programme planmäßig im Oktober 2020 beginnen. "Zum neuen Semester haben wir insgesamt 211 neue Studierende der MBA-Programme begrüßt. Das sind acht Prozent mehr als 2019", rechnet die Leiterin der Unternehmenskommunikation Vera Klopprogge vor.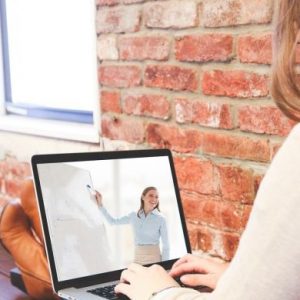 Die WHU – Otto Beisheim School of Management hat seit Oktober 2020 neben ihren Präsenzangeboten das neue Online-MBA-Programm "Global Online MBA" im Portfolio und wagt sich damit zusammen mit ihren Präsenzangeboten zweigleisig in die Zukunft. An der ESMT gibt es ein ausgebautes Online-Angebot für Teilzeit-MBAs. Um weiterhin hybriden Unterricht anzubieten, kommen an der Business School in Berlin sogenannte Co-Piloten zum Einsatz: Studierende, die als Vermittler zwischen der Online- und der Campus-Klasse fungieren und dabei eine nahtlose Interaktion im Klassenzimmer gewährleisten sollen.
Doch auch "Präsenzverfechter" unter den Business Schools betonen, dass es kein einfaches "Weiter so" gebe. "Der Wechsel von Präsenz- zu Online-Lehre beeinflusst natürlich auch die Didaktik unserer Vorlesungen", betont Professor Tobias Dauth, Lehrstuhlinhaber International Management an der HHL. Man biete kürzere Online-Vorlesungen und binde Studierende aktiv ein, etwa mit Tools wie "Mentimeter" oder "Break-out Rooms". "Bisher gibt es bei den didaktischen Online- und Hybrid-Konzepten keine bahnbrechenden Innovationen", meint allerdings Bürkle von der Mannheim Business School. "Viele Wortschöpfungen, die zuletzt für Online-Lernformen verwendet wurden, sind vor allem gutes Marketing. Hinter der Fassade steckt zumeist wenig Neues."
Business Schools bieten Goodies, Preise bleiben stabil
Der Mannheimer Marketingverantwortliche ist überzeugt, dass die Studierenden nach wie vor die Erfahrung vor Ort suchen. Viele internationalen Vollzeit-MBA-Kandidaten sähen ihre Zukunft am deutschen Arbeitsmarkt, wollten sich hierzulande ein Netzwerk aufbauen und die Kultur kennenlernen. Das rechtfertige auch die unveränderten Preise, meint Bürkle. "Wir haben in der Corona-Zeit die Services für Studierende und Alumni sogar noch ausgeweitet." Als Goodie für den kleinen Ausfall an Präsenzlehre können die diesjährigen MBA-Studierenden in Mannheim kostenfrei ein Zertifikat für "Management Analytics" absolvieren, das normalerweise 12.000 Euro kostet.
Online-Deutschkurse oder virtuelle Treffen und Austauschformate – auch an den anderen Hochschulen gibt es Zusatzangebote und zumindest offiziell keinerlei Preisnachlässe. Spannend dürfte werden, wie sich im Vergleich zu den Präsenzformaten die Kosten der neuen Online-Angebote entwickeln – vor allem, wenn im Frühjahr 2021 die Corona-Maßnahmen möglicherweise wieder gelockert werden. Fest steht: Die Digitalisierung ist auch in den Klassenräumen nicht mehr aufzuhalten.
Text- und Bild-Quelle: www.haufe.de