Der Frauenanteil unter den MBA-Studierenden wächst – aber nur langsam
Veröffentlicht am 13. Dezember 2018
Obwohl der Frauenanteil beim MBA steigt und immer mehr Frauen ein MBA-Studium an einer der internationalen Top Schulen beginnen, ist ihr Anteil im Vergleich zu den männlichen Studierenden gering.
Derzeit befindet sich der Anteil an studierenden Frauen weltweit bei durchschnittlich 37,4 Prozent, was im Vergleich zum Vorjahr einem Plus von weniger als 1,0 Prozent entspricht. International betrachtet gab es an den Schulen – mit Ausnahme der Schulen in den USA – 2018 sogar einen merkbaren Rückgang von 36,2 auf 35,1 Prozent. Zu diesem Ergebnis kam die Forté Foundation, ein Zusammenschluss von insgesamt 53 Business Schools und vielfältigen Unternehmen, welche Frauen auf ihrem Karriereweg unterstützen.
Auch beim Studium des Vollzeit-MBA liegt der Anteil an Frauen unter 50 Prozent
Über ein Drittel (nämlich 19 der in einer Umfrage 52 berücksichtigten Schulen) weisen einen Frauenanteil von mindestens 40 oder mehr Prozent bei den Vollzeit-MBA-Studiengängen auf. Im Jahr 2014 waren es nur drei Schulen. Die Marshall School of Business an der University of Southern California konnte als erstes Mitglied der Forté Foundation 52 Prozent erzielen. An der Kellogg School of Management sind 46 Prozent der Studierenden Frauen, an der Tuck School of Business 45 Prozent und an der Londoner Imperial College Business School ebenso 45 Prozent. Zumindest haben mehr als die Hälfte der Business Schools (nämlich 29) einen Frauenanteil von 35 Prozent oder mehr. Das entspricht mehr als doppelt so vielen Frauen wie im Jahr 2014, wo es nur 14 Schulen waren.
Elissa Sangster, CEO der Forté Foundation, meint dazu, dass bis 2020 einen Frauenanteil von 40 Prozent an den Partnerschulen angestrebt wird, wodurch sich in der Folge auch der Pool der weiblichen Führungskräfte vergrößern soll. Schließlich belegen die unterschiedlichsten Forschungsergebnisse, dass eine größere Anzahl an Frauen in Top-Positionen die finanzielle Performance eines Unternehmens optimieren.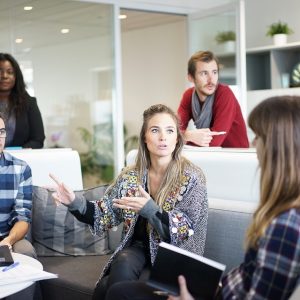 Förderungsmaßnahmen für Frauen im MBA-Studium
Die im Jahr 2001 ins Leben gerufene Forté Foundation sorgt mit mannigfaltigen Konferenzen und Programmen dafür, dass ein zunehmender Frauenanteil eine Managementausbildung beginnen und zu Ende bringen. Aktuell gehören der Forté Foundation 53 Business Schools an, 38 davon befinden sich in den USA, 4 in Kanada und 11 in Europa. Zu den europäischen Partnern gehören unter anderem die ESADE Business School, die HEC Paris, INSEAD, die London Business School und die Oxford Saïd Business School – bisher jedoch keine einzige deutsche School. Als 53. Mitglied wurde kürzlich das IMD in Lausanne aufgenommen, welches aber noch nicht an der aktuellen Umfrage teilnahm.
Zu den vielfältigen Initiativen der Forté Foundation zählt das Forté Fellows Program. MBA-Studentinnen können dabei Stipendien beantragen, welche von den Mitgliedern bereitgestellt werden. Bis dato haben die internationalen Schulen dabei über 142 Millionen Dollar an über 6.300 Forté Fellows verteilt.
Text-Quelle: www.haufe.de
Bild-Quelle: Pixabay