Informationsabend zum Executive MBA der Gutenberg School of Business Mainz (GSB Mainz)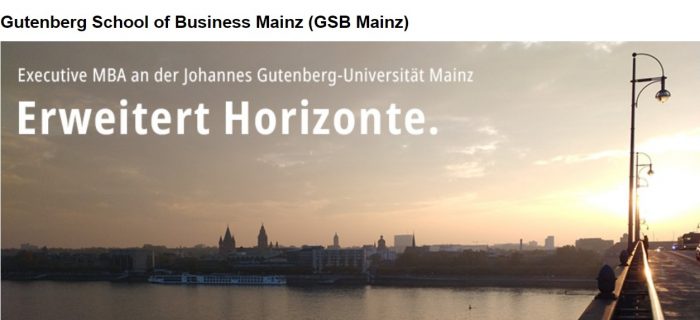 Die Gutenberg School of Business Mainz (GSB Mainz) der Johannes Gutenberg-Universität Mainz bietet berufsbegleitende Managementausbildung und Führungskräfteentwicklung an.
Bei diesem Event erfahren Sie alles Wissenswerte rund um diesen berufsbegleitenden Studiengang und den Studienablauf genauso wie zum Bewerbungsprozess.
Im Zentrum des Rhein-Main-Gebiets finden Sie an der GSB Mainz bedarfsgerechte berufsbegleitende Masterstudiengänge und Seminare für Young Professionals, Fach- und Führungskräfte. Dabei verfügt die GSB Mainz durch langjährige Expertise über ein ausgezeichnetes Renommee in der Managementausbildung, die sich insbesondere aus der konsequenten Verbindung hochkarätiger Lehre mit aktueller und zukunftsgerichteter praxisrelevanter Anwendung ergibt. So profitieren Sie für Ihre Karriere unmittelbar von dem Lehrangebot der GSB Mainz.
Ausführliche Informationen zum Executive MBA-Studium an der GSB Mainz finden Sie hier.
Anmeldungen zum Informationsabend senden Sie bitte per E-Mail an: gsb@uni-mainz.de
Weitere Termine zum Executive MBA:
21.03.2023
17.05.2023
12.07.2023
Event-Details
Ort:
Johann-Joachim-Becher-Weg 31, 55099 Mainz
Datum:
25. Januar 2023
Weiterführende Informationen:
gsb.uni-mainz.de/emba/