Infoabend zum Young Professional MBA-Studienprogramm der Gutenberg School of Business Mainz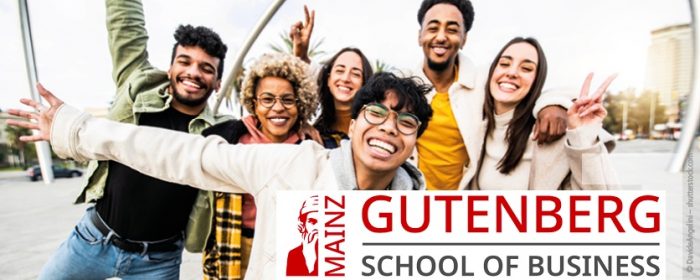 Bei diesem Event erfahren Sie alles Wissenswerte rund um diesen berufsbegleitenden Studiengang und den Studienablauf genauso wie zum Bewerbungsprozess.
Weitere Infoabende zum Young Professional MBA finden an diesen Tagen statt:
02. November 2023 19:00 Uhr
14.Dezember 2023 19:00 Uhr
25.Januar 2024 19:00 Uhr
Das Young Professional MBA-Studium an der Gutenberg School of Business (GSB) Mainz
ist ein General Management-Programm
umfasst 2 Studienjahre
ist berufsbegleitend in Wochenendeinheiten organisiert
richtet sich an Young Professionals
bietet Kurse und Case Studies mit praxisrelevanten Inhalten
bereitet auf eine Managementkarriere vor
erweitert grundlegende theoretische Kenntnisse und verbindet diese mit praktisch anwendbarem Wissen zur Vorbereitung auf die Herausforderungen internationaler Unternehmungen
schafft ein Verständnis für das komplexe Ineinandergreifen gesamtwirtschaftlicher Abläufe – sowohl im Kontext des einzelnen Unternehmens wie auch mit Blick auf die globale Wirtschaft
Am Young Professional MBA-Studiengang der GSB Mainz kann teilnehmen,
wer ein Studium (Universität, FH) erfolgreich abgeschlossen hat,
eine dreijährige Berufserfahrung nachweist und
in einem Aufnahmegespräch die persönliche und fachliche Eignung erkennen lässt.
Beim Nachweis der erforderlichen intellektuellen Fähigkeiten und mentalen Eigenschaften durch einen Eignungstest kann die Teilnahme auch Bewerberinnen und Bewerbern ohne Hochschulabschluss ermöglicht werden.
Ausführliche Infos zum Studiengang finden Sie hier: https://gsb.uni-mainz.de/young-professional-mba/
Anfragen und Anmeldungen für diese Veranstaltung bitte per E-Mail senden.
Event-Details
Veranstalter:
Gutenberg School of Business Mainz (GSB Mainz)
Ort:
Johann-Joachim-Becher-Weg 31, 55099 Mainz
Datum:
07. September 2023 , 19:00 Uhr
Weiterführende Informationen:
gsb.uni-mainz.de/informationsabende-ypmba/