"" am 13. Juni 2017
Mit unternehmerischem Denken in die Zukunft blicken und handeln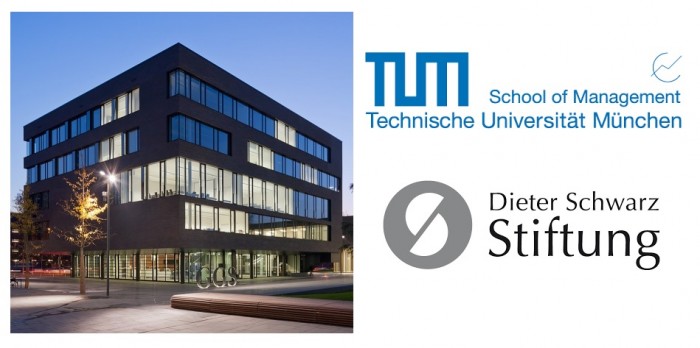 Gemäß diesem Motto baut die Dieter Schwarz Stiftung (DSS) am Standort Heilbronn gemeinsam mit der Technischen Universität München (TUM) und der TUM School of Management eine eigene Lehr- und Forschungseinheit auf.
Davon profitiert auch die German Graduate School of Management and Law (GGS). Die beiden Hochschulen vereint nicht nur ihr unternehmerisches Engagement, sondern auch ihre Leidenschaft für Innovationen und die Unterstützung von jungen Talenten auf dem Gebiet des Entrepreneurships. Auf Basis des langfristigen Einbezuges der GGS in den TUM Campus Heilbronn ist es möglich, vorhandene Synergien bestmöglich zu nutzen, den wissenschaftlichen Nachwuchs optimal zu fördern und zusätzlich neue Anregungen für eine der stärksten Wirtschaftsregionen im deutschen Bundesgebiet zu schaffen.
Eine gute Basis für die zukünftige Zusammenarbeit
»Als Spezialist für berufsbegleitende Masterstudiengänge in Management und Wirtschaftsrecht hat sich die GGS überregional fest etabliert und genießt als Anbieter innovativer Weiterbildungskonzepte sowie in der Forschung hohes Ansehen«, so beschreibt Vorstand Prof. Dr. Tomás Bayón das Portfolio der Business School und fügt hinzu: »Mit unseren Profilthemen Innovation, Unternehmertum und Compliance sind wir gut aufgestellt und bieten viele Ansatzpunkte für eine erfolgreiche Zusammenarbeit mit den Kollegen der TUM«.
Neue Kurse für einen regen Studienbetrieb
Im kommenden Herbst beginnen an der GGS die neuen Kurse der Master-Studiengänge MBA in Management und LL.M. in Business Law. Außerdem beginnt die ebenfalls neue Kohorte des M.Sc. in Management, welcher mit den Vertiefungsrichtungen Innovations- und Technologiemanagement, Handelslogistik und Dienstleistungsmanagement vielfältige General Management-Themen mit zukunftsorientiertem Fachwissen verknüpft. Darüber hinaus gibt es erstmalig den Schwerpunkt Vertriebsmanagement, mit dem man das nötige Know-how rund um den professionellen Vertrieb und das systematische Kundenmanagement erwerben kann.
So bietet die GGS ihren Studentinnen und Studenten eine noch größere Auswahl an Studienprogrammen in gewohnt hoher Qualität und mit einem angesehenen Abschluss. Sobald die GGS in den TUM Campus Heilbronn integriert wurde, was voraussichtlich ab dem Jahr 2021 der Fall sein wird, erhält jede Absolventin und jeder Absolvent ein individuelles Dokument der TUM, welches den Übergang der GGS in den TUM Campus Heilbronn offiziell bestätigt.