"Hochschule Koblenz, Standort RheinAhrCampus Remagen" am 10. Februar 2022
Studierende am RheinAhrCampus der Hochschule Koblenz wagen wieder den Sprung ins Auslandssemester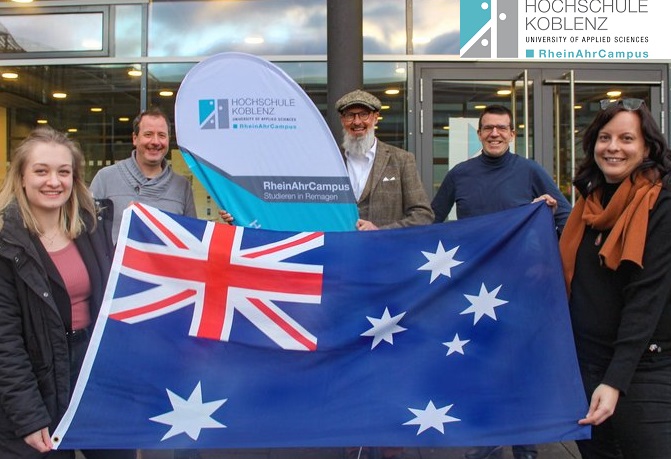 Ein Studium am RheinAhrCampus bietet Studierenden vielseitige Möglichkeiten Neues zu lernen und auszuprobieren.
Ein Auslandssemester ist dabei für viele ein Traum und im kommenden Semester können wieder mehr als 30 RheinAhrCampus Studierende diesen Traum wahr werden lassen. Eine von ihnen ist Sportmanagement Studentin Saskia Münch. Sie wagt den Sprung und verbringt ihr Auslandssemester in Australien an der University of the Sunshine Coast in der Nähe von Brisbane gemeinsam mit 6 anderen Studierenden vom RheinAhrCampus. "Die Vorfreude wächst von Tag zu Tag. Die Planungen laufen auf Hochtouren und ich bin gut vorbereitet" freut sich Saskia Münch. Das Team von Sprachen/Internationales hat Frau Münch im Bewerbungsprozess für ein Stipendium begleitet und ist begeistert von dem Durchhaltevermögen und der Motivation von Studierenden die einen Auslandsaufenthalt anstreben. Gerade Studierende, die ein Auslandssemester auf einem anderen Kontinent planten, haben eine Durststrecke hinter sich, denn die Einreise nach Australien war fast zwei Jahre lang nicht möglich. Frau Münch gehört damit zu den ersten Studierenden, die das beliebte Auslandssemesterziel wieder anfliegen können.
"Wenn die Planung der Internationalisierung gleich im ersten Semester startet, sind Ziele wie USA und Australien für alle Studierenden erschwinglich. Unser Team unterstützt mit Stipendien und bietet auch vorab Kontaktmöglichkeiten zu internationalen Studierenden der jeweiligen Partnerunis" sagt Dr. Laurent Borgmann, Leiter des Bereichs Sprachen/Internationales.
Durch die frühzeitige Planung der Sportmanagementstudentin Münch und das umfassende Betreuungsangebot seitens Sprachen/Internationales heißt es also bald "Welcome to Australia." Frau Münch profitiert dabei vom Stipendium "Dual trifft International" der Hochschule Koblenz, das durch Mittel des Deutschen Akademischen Austauschdiensts (DAAD) und des Bundesministeriums für Bildung und Forschung (BMBF) finanziert wird.
Zu einer kleinen Abschiedsrunde traf sich das Team von Sprachen/Internationales am RheinAhrCampus gemeinsam mit Frau Münch und tauschten Tipps zum Studium in Australien und zum Campusleben an der Partnerhochschule USC. "Übrigens ist zusätzlich zu Australien auch wieder Kanada als Land geöffnet, um Studierende zu empfangen" betont Barbara Neukirchen, die Frau Münch betreut hatte. Frau Münch freut sich schon auf die Vorlesungen und Seminare an der Partnerhochschule und Angebote wie zum Beispiel das campuseigene Schwimmteam und wilde Kängurus, die auf den Wiesen rund um den Campus regelmäßig grasen. Typisch "Down Under" eben!
Weitere Infos zum Studium oder Praktikum im Ausland erhalten Sie im Bereich Sprachen/Internationales.