"ESA (Education Services Agency) GmbH" am 19. Februar 2021
Der Online GMAT wird zur dauerhaften Option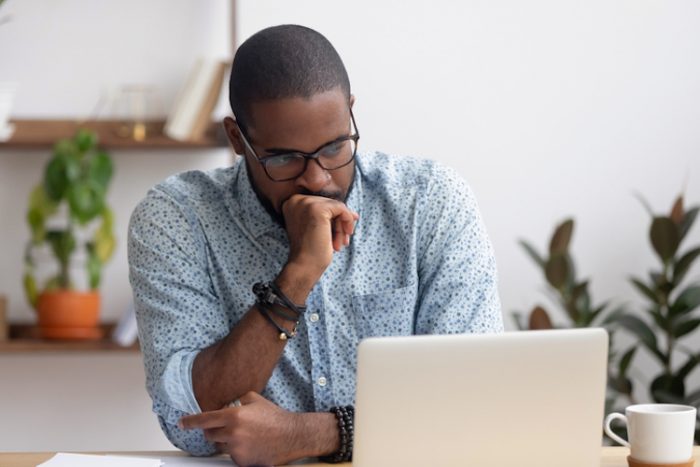 Nach der Durchführung von mehr als 45.000 GMAT-Online-Prüfungen hat das Graduate Management Admissions Council beschlossen, seine at-home Version des Tests zu einer dauerhaften Lösung zu machen.
Der at-home GMAT wurde ursprünglich als vorübergehende Maßnahme am 20. April eingeführt, als die Coronavirus-Pandemie die Testzentren auf der ganzen Welt stilllegte. Ursprünglich sollte er nur bis Mitte August verfügbar sein. Aber nach drei Verlängerungen der Stichtage hat GMAC beschlossen, die Option dauerhaft offen zu halten.
Als GMAC den At-Home-Test auf den Markt brachte, war er fast einen Monat später als der konkurrierende GRE-Test, der von Educational Testing Service vermarktet wird. Dann tauchten schnell Berichte über zahlreiche technische Pannen mit dem Test auf (siehe Tales From The GMAT Crypt: Test-Takers Cry Foul Over Tech Glitches, Bugs & Poorly Trained Proctors). Eine der größten anfänglichen Kontroversen betraf die fehlende Möglichkeit für Bewerber, auf einem neuen virtuellen Whiteboard zu üben, ein Problem, das inzwischen behoben wurde (siehe This Pro Test-Taker Scored 30 Points Lower On The At-Home GMAT.
Die MBA-Zulassungsdirektoren vieler prominenter Business Schools sind besorgt über diese Testerfahrungen und haben entweder die standardisierten Tests in diesem Jahr optional gemacht oder eine großzügigere Politik angekündigt, um auf die Prüfungen zu verzichten, wenn die Kandidaten bestimmte Kriterien erfüllen (siehe Top 100 MBA-Programme, die jetzt auf GMAT- und GRE-Tests verzichten). Etwa 65 der 100 besten MBA-Programme sind jetzt vollständig testfrei oder werben aktiv für den Verzicht auf den Test.
Seit dem Start im April hat GMAC nach eigenen Angaben mehr als 45.000 GMAT-Online-Prüfungen ausgeliefert und die Ergebnisse wurden an mehr als 4.000 Programme in der ganzen Welt geschickt. "Die GMAT-Prüfung und die Executive Assessment Online-Tests wurden zusammen an Kandidaten in mehr als 150 Ländern ausgeliefert", so Hernandez-Anderson in einer Stellungnahme gegenüber Poets&Quants. "GMAC setzt sich immer für die Erfahrung der Testteilnehmer und die Integrität unserer Prüfungen ein. Wir werden weiterhin Investitionen tätigen, die unsere Schulen und Testteilnehmer mit verbesserten und vergleichbaren Online- und Testcenter-Prüfungserfahrungen unterstützen."
Der GMAT ist 1 Prüfung, die auf 2 verschiedene Arten durchgeführt werden kann
Testvorbereitungsexperten begrüßen die Änderung. "Aus unserer Sicht ist es sehr studentenfreundlich, den GMAT Online und das Executive Assessment Online zu dauerhaften Optionen für die Testteilnehmer zu machen, da es etwas Sicherheit in einen Zulassungszyklus bringt, der mit Höhen, Tiefen und Überraschungen gefüllt war", sagt Stacey Koprince, Content und Curriculum Lead bei Manhattan Prep. "Während viele Testzentren in Betrieb sind, kann man nicht sagen, wann alle Testzentren wieder öffnen werden – oder wann eines wieder geschlossen wird. Mit dieser Ankündigung wissen angehende MBA-Studentinnen und -Studenten nun, dass sie den GMAT und den EA in dem Format ablegen können, das sie bevorzugen – und wenn ein Testzentrum vorübergehend schließt, können sie die Prüfungen immer noch online ablegen. Die Tatsache, dass GMAC dies zu einer dauerhaften Option macht, lässt uns glauben, dass nach anfänglichen Befürchtungen der Studenten wegen einiger technologiebezogener Probleme beide Online-Prüfungen sehr beliebt geworden sind."
GRE hat eine ähnliche Entscheidung getroffen
Stacey Koprince merkt an, dass eine von Kaplan durchgeführte Umfrage unter den Zulassungsbeauftragten für Business Schools im Jahr 2020 ergab, dass fast alle Zulassungsbeauftragten keinen Unterschied zwischen Bewerbern machen, die die Ergebnisse der traditionellen Testcenter-Version des GMAT einreichen und denen, die die GMAT-Online-Ergebnisse einreichen. "Von ihrer Website aus scheint es, dass ETS eine ähnliche Entscheidung bezüglich des GRE getroffen hat, was sehr sinnvoll wäre, da der GRE und der GMAT in einem so starken Wettbewerb um Bewerber für Business Schools stehen und dies ein wichtiges Unterscheidungsmerkmal wäre", fügt Koprince hinzu.
Seit dem Start des Online-Tests im April hat GMAC auch eine Reihe von Änderungen an der Testumgebung für die Teilnehmer vorgenommen. Das Unternehmen hat einige der anfänglichen Fehler in der Online-Prüfung ausgebügelt, ein Whiteboard-Tool hinzugefügt, um den Testteilnehmern die Vorbereitung auf die Verwendung zu Hause zu erleichtern, den Testteilnehmern erlaubt, zweimal an der Online-Version teilzunehmen (ursprünglich konnte sie nur einmal abgelegt werden) und den Preis des Online-Tests um 25 % von 200 auf 250 US-Dollar erhöht.
Im Gegensatz zu den Terminen im Testzentrum ist der GMAT zu Hause 24 Stunden am Tag, sieben Tage die Woche verfügbar. Kandidaten können einen Prüfungstermin bis zu 24 Stunden vor einem verfügbaren Testfenster vereinbaren, allerdings ist der Online-Test in Festlandchina, Kuba, Iran, Nordkorea und Sudan aufgrund von behördlichen und lokalen Datenschutzbestimmungen weiterhin nicht zugänglich.
Ausführliche Informationen zum Online GMAT finden Sie hier.
Text- und Bild-Quelle: poetsandquants.com