"The University of Chicago Booth School of Business" am 13. Oktober 2020
Meet and Greet with EMBA Alumni in Germany and Austria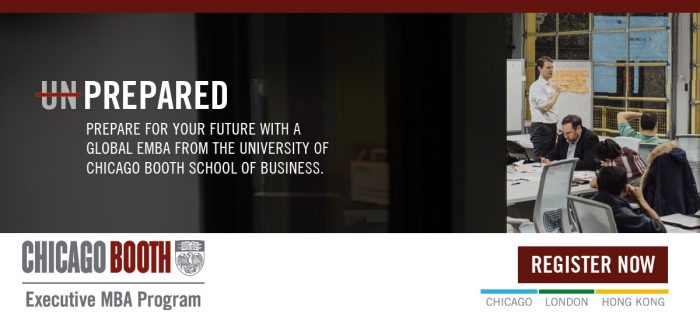 Are you looking to accelerate your career, advance your skill set or hone your leadership style?
Our alumni tell us the MBA prepared them to tackle the toughest business challenges and offered access to a network of the best and brightest executives from around the world.
Ioannis Rallis '16 (EXP-21), Executive Director and Head of SSA Debt Capital Markets Business, J.P. Morgan
Felix Schupp, '15 (EXP-20), Founder, StarFish Capital GmbH
Join our virtual panel of Germany & Austria-based Chicago Booth alumni on 20th October at 7pm (CET) to learn how an Executive MBA could help you achieve your professional goals.
Discover:
The value of an MBA in Germany, Austria and beyond
Their advice on calculating the ROI of an MBA in 2020
How the MBA has helped them develop their careers
Register Now >> https://apply.chicagobooth.edu/register/?id=2ebf1e1a-2024-48b7-8def-3fe090ced519
This virtual event will conclude with an interactive Q&A session.
Register to participate in this free 45-minute webinar to determine if the top-ranked, part-time, London-based Chicago Booth Executive MBA is right for you.
This event is free to attend but registration is necessary as spaces are limited.
https://apply.chicagobooth.edu/register/?id=2ebf1e1a-2024-48b7-8def-3fe090ced519