am 07. Juli 2015
MBA-Studium leicht gemacht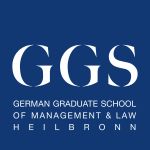 Erstmals vergibt die German Graduate School of Management and Law (GGS) für den Studiengang Master of Business Administration (MBA) bis zu fünf Sonderstipendien in Höhe von 75 Prozent der Studiengebühren. Das Stipendium für das 24-monatige berufsbegl
Förderung junger Entrepreneurs
Unternehmertum ist neben Innovation und Compliance eines der Schwerpunktthemen in der GGS-Forschung. Die Entwicklung verantwortungsvoller Führungspersönlichkeiten, die unternehmerisch denken und handeln sowie rechtliche Gestaltungsmöglichkeiten nutzen, ist als Wert fest im Leitbild der innovativen Business School verankert. Um speziell jungen Unternehmern und Firmengründern ein MBA-Studium zu ermöglichen, vergibt die Dieter Schwarz Stiftung zwei der Sonderstipendien an junge Entrepreneurs. Zusätzlich stellt die Stipendienkommission bestehend aus einem Alumnus, einem Mitglied der Management-Fakultät sowie dem Leiter Studienprogramme drei leistungsbezogene Sonderstipendien bereit. Als Kriterien dienen die Abschlussnote im Erststudium, gesellschaftliches und soziales Engagement, Führungskompetenz und die Bereitschaft zu besonderem Engagement an der GGS.
Bewerbungsfrist endet am 31. August 2015
Interessenten für das Sonderstipendium sowie das MBA-Studium können sich noch bis zum 31. August 2015 bei der GGS bewerben. Der Herbstkurs MBA startet am 9. Oktober mit dem Modul "Managing and Leading in Organisations". Doch nicht nur die Empfänger der Sonderstipendien profitieren von attraktiven Konditionen: Jeder im Auswahlverfahren für das MBA-Studium zugelassene Bewerber erhält ein 40 Prozent-Stipendium der Dieter Schwarz Stiftung. Somit verringert sich die Studiengebühr von 29.500 Euro auf einen Eigenanteil von 17.700 Euro.
Als betriebswirtschaftliches Aufbaustudium ist der international renommierte Master of Business Administration auch für Absolventen nicht-betriebswirtschaftlicher Erststudiengänge geeignet. Die Studierenden bringen eine mindestens dreijährige Berufserfahrung mit. Die Vorlesungen finden in englischer Sprache statt und werden von GGS-Professoren und einer internationalen Gastfakultät abgehalten.
https://www.ggs.de/studium/mba/kosten-und-finanzierung/