"Hochschule Darmstadt" am 16. Mai 2017
Die Hochschule Darmstadt informiert über zwei berufsbegleitende Fernstudiengänge im Bereich Elektrotechnik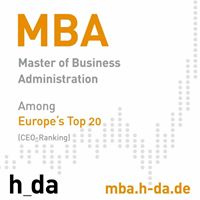 Am Freitag, den 19. Mai 2017, lädt die Hochschule Darmstadt zu einer Infoveranstaltung über die beiden berufsbegleitenden Fernstudiengänge Master of Science Elektrotechnik und einem neuen Studienangebot mit dem Abschluss Master of Engineering ein.
Das neue Master-Programm befasst sich dabei mit dem Schwerpunkt "Zuverlässigkeit, Funktionale Sicherheit und Qualität von (elektro-) technischen Systemen".
Die Leiter der zwei Studiengänge präsentieren die jeweiligen Studieninhalte und den Ablauf des Fernstudiums. Darüber hinaus stehen sie Ihnen gerne für individuelle Fragen zur Verfügung. Während der Veranstaltung sind außerdem derzeitige Fernstudierende und Absolventen anwesend und geben Ihnen ihre persönlichen Informationen weiter.
Bei einem kleinen Imbiss besteht die Möglichkeit zum persönlichen Austausch und zu verschiedenen Einzelgesprächen.
Alle Fernstudieninteressierten sind um 16:30 Uhr an der Hochschule Darmstadt, Birkweg 8-10, Geb. D 16, Raum 302 in 64295 Darmstadt herzlich willkommen!
Details zum neuen Master-Fernstudium "Zuverlässigkeit, Funktionale Sicherheit und Qualität von (elektro-) technischen Systemen"
Moderne technische Systeme sind digital, vernetzt und verfügen über Rechnerintelligenz. Sie übernehmen neben ihren eigentlichen Aufgaben auch Schutzfunktionen. Intelligente Systeme überwachen Prozesse, steuern Roboter, kontrollieren das Bremssystem in Automobilen oder regeln Kraftwerke. Sie sorgen für funktionale Sicherheit. Entwicklung und Konstruktion von Systemen mit funktionaler Sicherheit sind in Normen festgehalten. Doch wie setzt man diese Normen in die Praxis um?
Hersteller setzen alles daran, um das Auftreten von Fehlern und Ausfällen zu verhindern, indem sie Maßnahmen der Zuverlässigkeitstechnik anwenden. Denn Fehlfunktionen oder der Ausfall haben schwerwiegende Konsequenzen. Das sind Themen, mit denen sich Studierende des neuen Masterstudiengangs praxisnah befassen. Das Fernstudienangebot richtet sich an Ingenieurinnen und Ingenieure, an Führungskräfte aus der Elektrotechnik, der Mechatronik, des Maschinenbaus und des Wirtschaftsingenieurwesens. Zugangsvoraussetzungen sind ein einschlägiger technischer Bachelor- oder Diplomabschluss sowie eine mindestens einjährige Berufspraxis nach Studienabschluss. Das Fernstudium ist akkreditiert – die Absolventen erwerben in sechs Semestern Regelstudienzeit den international anerkannten Studienabschluss Master of Engineering (M.Eng.). Wer nicht das komplette Masterstudium absolvieren möchte, kann Module belegen und diese mit einem Hochschulzertifikat abschließen.
Details zum Fernstudium Master of Science Elekrotechnik
Mit diesem Fernstudiengang, der an der Hochschule Darmstadt in diesem Jahr sein 10-jähriges erfolgreiches Bestehen feiert, liegen alle richtig, die neue Impulse und Perspektiven für ihren Job suchen, Aufgaben in einem neuen technischen Bereich übernehmen oder technisches Wissen vertiefen möchten. Neben aktuellen technischen Inhalten erwerben sie wirtschaftswissenschaftliches Know-how sowie Soft Skills – beides insbesondere für die Übernahme von Führungsaufgaben unentbehrlich. Das Studium ist auf sechs Semester angelegt. Im zweiten Semester stehen Vertiefungsrichtungen mit zukunftsorientiertem Bezug zur Wahl: Automatisierungstechnik, Mikroelektronik oder Energietechnik. Angesprochen sind Absolventen eines einschlägigen Bachelor- oder Diplomstudiums nach mindestens einjähriger Berufspraxis. Für Techniker und Meister gibt es das Pilotprojekt "Meister zum Master", das unter bestimmten Voraussetzungen einen Direkteinstieg auf Masterniveau ohne vorherigen Bachelor- oder Diplomabschluss ermöglicht.
Beide berufsbegleitenden Fernstudiengänge folgen dem Ansatz des Blended Learning, einem Wechsel aus Selbststudien- und Präsenzphasen. Hierbei kommt ein Methodenmix aus Kompaktvorlesungen, Laborversuchen und Seminaren zum Tragen. In den Selbstlernphasen stehen den Studierenden Lehrbriefe und E-Learning Materialien auf einer Lernplattform zur Verfügung. Während der ca. 6 -8 Präsenzveranstaltungen an Wochenenden setzen die Fernstudierenden ihr selbst erworbenes Wissen in den gut ausgestatteten Laboren der Hochschulen in Aschaffenburg und Darmstadt um.
Die zwei Fernstudienangebote werden von diesen Hochschulen in Kooperation mit der Zentralstelle für Fernstudien an Fachhochschulen (ZFH) durchgeführt. Bei Interesse können sich Fernstudieninteressierte ab sofort unter dem nachfolgenden Link anmelden: www.zfh.de/anmeldung
Weitere Informationen zu den beiden Studiengängen finden Sie unter unter www.masterfernstudium-elektrotechnik.de und www.zsq-fernstudium.de