am 09. April 2015
GGS Young Talent Award 2015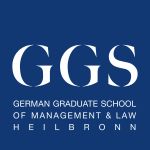 Jury sucht beste Abschlussarbeiten zum Thema Unternehmensführung und Komplexität
Bereits zum fünften Mal schreibt die German Graduate School of Management and Law (GGS) in Heilbronn den GGS Young Talent Award aus. Gesucht werden herausragende Bachelor-, Diplom- oder Masterarbeiten aus den Bereichen Betriebswirtschaftslehre und Recht, die im Kontext von Unternehmensführung und Komplexität stehen und nicht älter als vier Jahre sind.
Master-Vollstipendium und attraktive Geldpreise
Das Themenspektrum der gesuchten Arbeiten ist vielfältig. Es reicht von der Komplexität innerhalb von Unternehmen, in der Führung, im Unternehmensrecht oder in Wertschöpfungsketten bis hin zu Kooperationen, Bündnissen oder Zusammenschlüssen von Unternehmen. Entscheidend ist, dass die Abschlussarbeiten das Leitthema "Unternehmensführung und Komplexität" aufgreifen. Attraktive Preise erwarten die Gewinner des GGS Young Talent Awards 2015. So erhält der Sieger ein Master-Vollstipendium für ein MBA-, LL.M.- oder MSc-Studium an der GGS im Wert von bis zu 29.500 Euro. Die Plätze 2 und 3 sind mit Geldpreisen in Höhe von 750 und 300 Euro dotiert.
In der Jury, die die besten Arbeiten auswählt, sitzen die GGS-Wissenschaftler Markus Vodosek, Professor für strategisches Management und Führung, Claus Pegatzky, Professor für öffentliches Wirtschaftsrecht, Regulierungsrecht und Europarecht, sowie Regina Frey, Post-Doc für Human Resource Management und Marketing.
Einsendeschluss am 1. Juli 2015
Ausführliche Informationen zum GGS Young Talent Award 2015 sind unter www.ggs.de/award abrufbar oder können bei Dr. Regina-Viola Frey per E-Mail unter regina-viola.frey@ggs.de angefordert werden. Die Bewerbungsfrist endet am 1. Juli 2015.