am 13. August 2015
GGS-Infotag am 5. September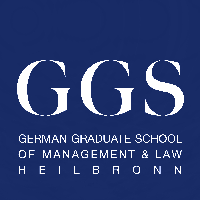 An der German Graduate School of Management and Law (GGS) in Heilbronn findet am 5. September 2015 der nächste Master-Infotag statt. Interessenten an einem berufsbe-gleitenden Masterstudium in Management und Unternehmensrecht erfahren Wissenswertes rund ums Studium und lernen die Besonderheiten der innovativen Business School kennen. So können beispielsweise dank des Wochenendformats Studium und Beruf ideal verknüpft werden.
Real-Life Learning
Das Lernen anhand der eigenen Berufspraxis zeichnet die MBA-, LL.M.- und MSc-Studiengänge an der GGS aus. Während die internationale Fakultät mit renommierten Dozenten und anspruchsvolle Lerninhalte die wissenschaftliche Exzellenz bestätigen, garantieren kleine Lerngruppen und konstruktive Diskussionen den individuellen Lernerfolg. Die Studierenden profitieren dabei vom persönlichen Erfahrungsaustausch und der Erweiterung ihres Netzwerkes. Auch am Infotag zählt das persönliche Gespräch. Heinz-Theo Wagner, Professor für Management und Innovation und das Team der Studienberatung stehen deshalb für ausgiebige Gespräche zur Verfügung.
Der GGS-Infotag startet am Samstag, 5. September 2015, um 11:00 Uhr und endet gegen 13:00 Uhr mit einem Mittagsimbiss. Veranstaltungsort ist das GGS-Gebäude auf dem Bildungscampus der Dieter Schwarz Stiftung, Bildungscampus 2, 74076 Heilbronn (Zufahrt über Dammstraße 1).
Die Anmeldung zum Master-Infotag erfolgt bei Elvira Herzog von der Studienberatung telefonisch unter 07131 / 645636-17, per E-Mail an elvira.herzog@ggs.de oder über das Online-Anmeldeformular auf www.ggs.de/infotag.