"University of Cologne Business School" am 03. Januar 2020
Early Bird Rabatt für den Cologne-Rotterdam Executive MBA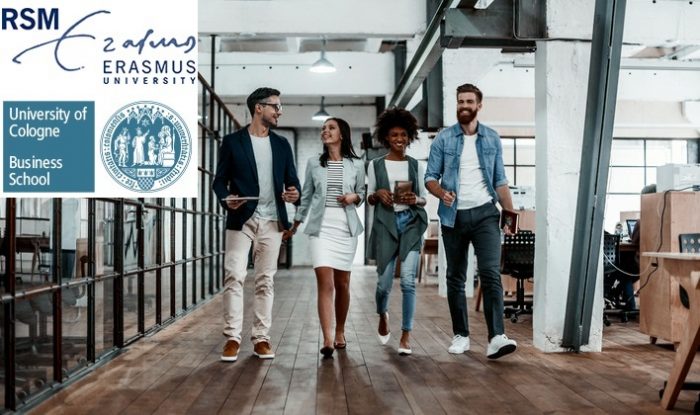 Wer in einem Vollzeitjob arbeitet und sich als Vorbereitung für seine nächste Karrierestufe weiterbilden möchte, der wählt oftmals ein Executive MBA Studium.
Sollten Sie sich speziell für den Cologne-Rotterdam Executive MBA interessieren, dann können Sie bei einer Bewerbung bis 31. Januar 2020 von einem attraktiven Early Bird Rabatt profitieren. Reichen Sie bis zu diesem Tag Ihre vollständigen Unterlagen ein und Sie erhalten eine Ermäßigung von € 3.000 auf die Studiengebühren.
Die Bewerbung für den Cologne-Rotterdam Executive MBA findet ausschließlich über das Online-Bewerbungstool der University of Cologne Executive School statt. Sie können Ihre Bewerbung jederzeit vor der Bewerbungsfrist einreichen, da die Zulassungsentscheide laufend erfolgen. Bitte beachten Sie, dass es eine begrenzte Anzahl an Plätzen im EMBA gibt. Daher empfehlen wir Ihnen sich frühzeitig zu bewerben.
Wenn Sie wissen möchten, ob Sie die Aufnahmekriterien erfüllen, dann nutzen Sie das Beratungsangebot der der University of Cologne Executive School und wenden Sie sich bitte an eine der Admissions Managerinnen Sabine Kuschel oder Juliana Milla. Sie erreichen beide per E-Mail an mba-admission@uni-koeln.de.
Das EMBA Programm startet im September 2020, Bewerbungsschluss ist am 3. August 2020.
Details zum Cologne-Rotterdam EMBA
Der Cologne-Rotterdam EMBA positioniert sich als ausgesprochen ambitioniertes und anspruchsvolles Programm und stellt diese Kriterien auch an seine KandidatInnen. Nur KandidatInnen, die uns von Ihren Qualitäten hinreichend überzeugen konnten und die das selektive Bewerbungsverfahren gemeistert haben, können teilnehmen. Folgende Anforderungen sollten Sie für die Teilnahme an dem Executive MBA erfüllen:
Akademischer Abschluss: Erster berufsqualifizierender Hochschulabschluss (Universitäts- oder gleichwertiger Abschluss), mindestens Bachelor oder äquivalent
Berufserfahrung und -erfolge: mindestens vier Jahre Berufserfahrung nach dem ersten Hochschulabschluss sowie klar erkennbare Karrierefortschritte
Führungsstärke: erste Führungserfahrung durch Personalverantwortung und/oder Projektmanagement
Englischkenntnisse: Level B2 (GER)
Neben den oben aufgeführten spezifischen Fachkenntnissen werden außerdem bestimmte Kompetenzen und ein geeigneter Mindset von den Studierenden vorausgesetzt, um den Studiengang Executive MBA erfolgreich absolvieren zu können:
Klare Karriereziele
Hohe Motivation, um die Herausforderungen des Studienprogramms neben dem Beruf meistern zu können
Kommunikationsgeschick und Kontaktfreudigkeit
Teamfähigkeit
Emotionale Intelligenz