"" am 25. September 2015
Bewerbungsstart für den Applied Computational Mechanics (ACM) an der esocaet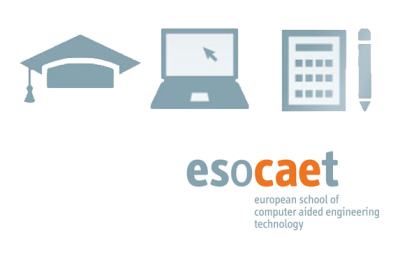 Ab Herbst ist es soweit – dann können sich alle technisch Interessierten an der European School of CAE Technology (esocaet) für einen Studienplatz zu diesem Master-Programm bewerben.
Die esocaet wird von der CADFEM GmbH betrieben, welche über ein internationales Hochschulnetzwerk verfügt. Das Master-Programm Applied Computational Mechanics ist vor allem für Berufstätige geeignet, die innerhalb von zwei Jahren berufsbegleitend zusätzliches Wissen erwerben und vertiefen sowie ihr Fachwissen in allen CAE-Disziplinen praxisorientiert erweitern möchten. Für Ingenieure werden im Unterricht auch Managementthemen besprochen, die speziell ihren Fachbereich betreffen.
Die Studierenden profitieren im Vergleich zu den vielfach angebotenen reinen Präsenzstudiengängen von mehreren komprimierten Präsenzblöcken und können dadurch ihren Beruf und das Studium optimal miteinander verknüpfen. Darüber hinaus stehen Sie in direktem Kontakt zu ihren Mitstudierenden und zu den Dozenten. Ein weiteres Plus ist, dass Sie Ihre Problemstellungen aus dem persönlichen Berufsalltag jederzeit in das Studium einbringen und darüber mit Fachexperten sprechen können.
Wenn Sie den Master-Studiengang erfolgreich beenden, dann erhalten Sie dafür den international anerkannten, akademischen Titel "Master of Engineering" (M.Eng.). Die Verleihung des Abschlusses wird durch die Hochschulen für angewandte Wissenschaften Landshut und Ingolstadt durchgeführt. Damit steht Ihnen gleichzeitig der Zugang zu einer Promotion offen. Die Absolventinnen und Absolventen erwerben bis zum Studienabschluss 90 Credit Points nach dem Europäischen Leistungspunktesystem (ECTS).
Aufgrund des englischsprachigen Unterrichts besuchen Ingenieure aus aller Welt den Master-Studiengang, so zum Beispiel aus Deutschland, Brasilien, Italien, Norwegen, USA, Indien, Luxemburg, China und der Schweiz.
Für das Jahr 2016 ist geplant,  weitere Studiengänge mit interessanten Schwerpunkten und neuen Modellen anzubieten. Angedacht ist etwa die Vertiefung der Strömungssimulation in der Schweiz, der Elektromagnetik in Großbritannien oder der Biomechanik/Medizin in Deutschland. Auf diese Weise können die Studierenden im Rahmen der jeweiligen Module verschiedene Auslandsaufenthalte in ihr Studium integrieren oder durch diverse Modulkombinationen ein individuelles Curriculum namens "Multiphysics" zusammenzustellen.
Weitere Informationen zu diesem Studiengang finden Sie hier.
Bild-Quelle: www.plm-it-business.de