"The Economist Which MBA?" am 26. August 2015
Stipendium im Wert von rund 22.000 Euro und 5 iPad Air zu gewinnen!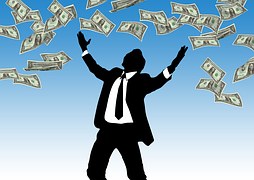 Um sich Chancen auf dieses tolle Stipendium zu sichern, muss man an einem Wettbewerb teilnehmen, der unter dem Namen "Brightest Minds MBA" durchgeführt wird.
An diesem Wettbewerb können alle interessierten MBA sowie EMBA Studentinnen und Studenten mitmachen. Derjenige Studierende, welcher in einem von The Economist GMAT Tutor  bereitgestellten Simulationstest als Sieger(in) hervorgeht, ist gleichzeitig Gewinner des attraktiven Stipendiums im Wert von rund 22.000 Euro (25.000 US Dollar). Dieses Stipendium kann für ein Studium an einer als Wettbewerbs-Sponsor mitwirkenden Premium Business School verwendet werden.
Darüber hinaus verlost The Economist GMAT Tutor  unter 5 weiteren Teilnehmerinnen und Teilnehmern jeweils 1 iPad Air.
Details zum Simulationstest: Sie müssen dabei 75 Minuten lang verbale Aufgaben lösen und weitere 75 Minuten lang diverse schriftliche Aufgaben lösen.
Wer am Simulationstest teilnehmen möchte, sollte sich 1,5 Stunden Zeit nehmen. Der Test kann nämlich nicht unterbrochen werden, man muss ihn ohne Pause bis zum Ende absolvieren. Die Anmeldung ist kostenlos und bis 30. Oktober 2015 hier möglich – viel Glück!
Der Wettbewerb wird von folgenden Business Schools als Sponsor gefördert:
University of Virginia Darden School of Business / Read more »
Rady School of Management at UC San Diego / Read more »
University of Edinburgh Business School / Read more »
Weatherhead School of Management Global MBA / Read more »
Sheffield University Management School / Read more »
Schulich School of Business – York University / Read more »
Daniels College of Business at the University of Denver / Read more »
LSE Department of Management /Read more »
Frankfurt School / Read more »
The University of Western Australia / Read more »
Aston Business School / Read more »
Johns Hopkins Carey Business School / Read more »
The Ohio State University Fisher College of Business / Read more »
Hult International Business School / Read more »
Graduate School of Management, GLOBIS University / Read more »