"QS Quacquarelli Symonds Ltd." am 19. Juni 2019
QS präsentiert 14 Live Webinare zum MBA und Master-Studium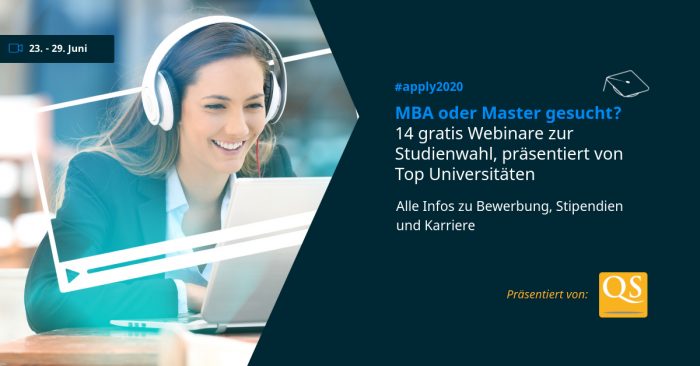 Die Entscheidung zum weiterführenden Studium erfordert einiges an Planung und Vorbereitung. QS Apply 2020 bietet zukünftigen Studierenden in 14 Webinaren vielfältige Infos zur Bewerbung an einer Business School zum Master- und MBA-Studium.
Die QS Webinare finden live vom 23. bis zum 29. Juni 2019 statt und umfassen Informationen zu einzelnen Master-Programmen (u.a. Master in Finance und Master in Management), der Zulassung und Bewerbung sowie zu Stipendien und Finanzierungsmöglichkeiten. Präsentiert werden die Webinare von führenden Business Schools, die im Q&A auch auf die Fragen der Online-Teilnehmer eingehen werden. Mit dabei sind Duke University, Cornell SC Johnson, ESMT Berlin, George Washington University, UC Irvine, Penn State University, University of Maryland University of Arizona und weitere.
QS Apply 2020, live vom 23. Bis 29. Juni 2019
Webinare zur Studienwahl, Bewerbung, Stipendien und Karriere
Präsentiert von Top Business Schools, u.a. Cornell, ESMT Berlin, Penn State
Neben den Webinaren bietet QS für MBA-Interessenten das nützliche Tool des personalisierten MBA ROI Rechners an, um die Gehaltsentwicklung an 150 verschiedenen Business Schools zu vergleichen. Dabei passt dich die Berechnung an die Region und den Jobsektor an.
Die Teilnahme an den Webinaren ist kostenlos. Die Anmeldung und Übersicht sind online unter www.topuniversities.com/apply2020_de zu finden.
QS Apply 2020 – Programm
23. Juni, 17.00 Uhr / Einführung zum Studium des Business Masters
24. Juni, 17.30 Uhr / Einstieg in die Tech-Branche mit dem MBA
24. Juni, 21.00 Uhr / Part-Time oder Online MBA Studium neben der Arbeit
25. Juni, 15.30 Uhr / Steigere Deine Karriere mit einem Master in Finance oder Accounting
26. Juni, 15.30 Uhr / Wie besteht man langweilige Business School Zulassungstests mit Bravour
26. Juni, 17.00 Uhr / Wie beeindrucke ich die Aufnahmekommission mit meinem Bewerbungsschreiben
27. Juni, 14.30 Uhr / Was ist ein Master in Management?
27. Juni, 17.00 Uhr / Was Du im Zulassungsinterview vermeiden solltest
27. Juni, 18.30 Uhr / Business Masters & MBA in den USA für europäische Studenten
28. Juni, 15.00 Uhr Frauen in der Wirtschaft voranbringen
28. Juni, 17.00 Uhr / Business Analytics: das weltweit am stärksten wachsende Business Studium
28. Juni, 18.30 Uhr / Was ist der wirkliche Wert eines MBA?
29. Juni, 15.30 Uhr / Finanzierungsmöglichkeiten von Business Master Programmen
29. Juni, 17.00 Uhr / Geheimtipps zur erfolgreichen Studienbewerbung