University of Cologne beim e-fellows MBA Day Frankfurt: Online-Event am 10. Oktober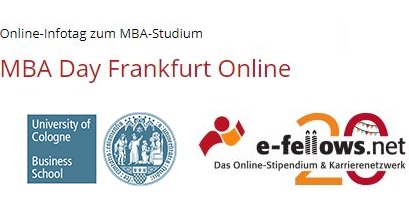 Lernen Sie die University of Cologne am MBA Day online kennen und informieren Sie sich über den Cologne-Rotterdam Executive MBA!
Im Anschluss an einen Einführungsvortrag können Sie sich bei diesem MBA Day von den Admissions Managern der University of Cologne individuell beraten zu lassen. Zudem bietet Ihnen das Event diverse Networking-Möglichkeiten und die Chance auf den Gewinn eines Stipendiums.
Hinweis: Bitte beachten Sie, dass das Event online stattfindet. Alle notwendigen Informationen und Zugangsdaten erhalten Sie vorab vom Veranstalter.
Die Teilnahme ist kostenlos, doch die Plätze sind limitiert. Bitte melden Sie sich bis zum 7. Oktober für den MBA Day direkt bei e-fellows an.
Sie möchten ein persönliches Gespräch? Dann melden Sie sich zur Vereinbarung eines individuellen Termins bei Jennifer Biesenthal (Marketing & Admissions Manager), entweder per E-Mail an mba-admission@uni-koeln.de oder telefonisch unter +49 221 470 76337.
Event-Details
Veranstalter:
e-fellows.net GmbH & Co. KG
Datum:
10. Oktober 2020 , 11:00 Uhr
Weiterführende Informationen:
www.e-fellows.net/Events/MBA-Day/Business-Schools-Online-treffen-Frankfurt