RWTH Aachen: Executive MBA Info-Session am 19.11.2015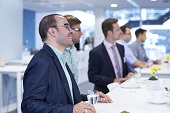 Das Executive MBA-Team der RWTH Aachen lädt Sie herzlich zu unserer kommenden Informationsveranstaltung am 19.11.2015 ab 17.00 Uhr innerhalb des nächsten Moduls "Strategisches Management" ein.
Herr Fabian Stöcker, Vice President and Head of Strategic Development der Schott AG hält eine Keynote zur Thema "Change-Management und Implementierung".
Nutzen Sie dabei die Gelegenheit den EMBA 12 live zu erleben und die Teilnehmenden direkt nach ihren Erfahrungen und Eindrücken zu befragen. Selbstverständlich stehen auch wir – das EMBA-Team – Ihnen bei Fragen und Anmerkungen zur Verfügung.
Gerade vor dem Hintergrund der angelaufenen Bewerbungsphase für den RWTH Executive MBA 13 im Klassenverband, der am 19. September 2016 starten wird, möchten wir Sie auf unseren Frühbucherrabatt hinweisen. Teilnehmer erhalten bei erfolgreicher Absolvierung des Assessments bis 31. Januar 2016 einen Frühbucherrabatt in Höhe von 10% auf die Studiengebühr (nicht mit anderen Stipendien/Rabatten kombinierbar). Die Bewerbungsunterlagen müssen bis zum 18.12.2015 eingereicht werden.
Event-Details
Ort:
Campus-Boulevard 55, 52072 Aachen
Datum:
19. November 2015 , 17.00 Uhr
Weiterführende Informationen:
www.emba.rwth-aachen.de