QS Online MBA Event – Deutschland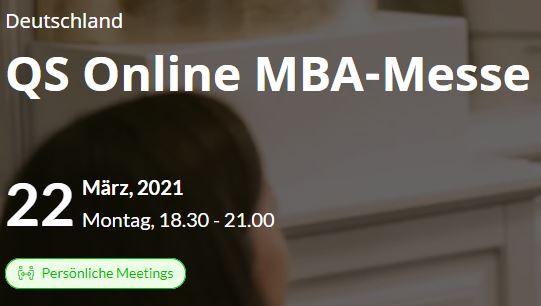 Dieser QS Online MBA-Event bietet Ihnen die vielfältigsten Informationen zum Managementstudium des Master of Business Administration (MBA).
Wir connecten Sie online mit führenden, akkreditierten Business Schools aus Deutschland sowie international und erstellen mit Ihnen zusammen Ihr persönliches Event-Programm.
In persönlichen Gesprächen und kleinen Gruppen erfahren Sie mehr zu den verschiedenen MBA-Programmen, Spezialisierungen, der Zulassung & Bewerbung sowie zum ROI und Karrieremöglichkeiten. Zudem bieten wir Ihnen Vorträge zur MBA-Bewerbung und Tipps zu Karriere, GMAT und CV.
Treffen Sie über 20 Business Schools: WHU, TUM, HEC Paris, ESCP Europe, IE Business School, ESB Reutlingen, Warwick Business School, Kühne Logistics University, Imperial College, Alliance Manchester, TUM School of Management, Rotterdam Erasmus und weitere.
Ihre Vorteile:
Direkte Beratung mit führenden Business Schools
Zugang zu Stipendien im Wert von $7.0 Mio.
Workshop mit erfahrenem Career Coach
Beratung durch MBA-Experten
Vorträge zur MBA-Bewerbung und Studienwahl
Tipps zu Karriere, GMAT & CV
Jetzt kostenlose Teilnahme sichern!
Event-Details
Veranstalter:
QS Quacquarelli Symonds Ltd.
Datum:
22. März 2021 , 18:30 Uhr
Weiterführende Informationen:
bit.ly/3iO2jV1