Open Campus Day an der IUBH School of Business and Management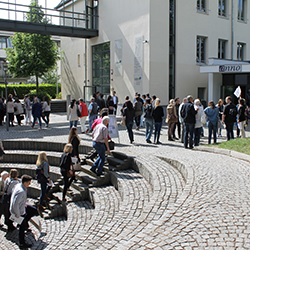 Der Tag der offenen Tür findet am Campus Bad Honnef · Bonn statt und bietet eine tolle Gelegenheit, die School einen ganzen Tag lang live zu erleben sowie deren Studienangebot genauer kennenzulernen.
Beim Open Campus Day erhalten Sie nützliche und hilfreiche Informationen aus erster Hand. Zudem gibt es ein abwechslungsreiches Programm, das Ihnen zum Beispiel verschiedene Info-Vorträge, diverse Schnuppervorlesungen sowie Campusführungen, Praktikumsberichte und Projektpräsentationen bietet. Die Professoren, Mitarbeiter und Studierenden freuen sich auf Ihren Besuch und stehen Ihnen bei individuellen Fragen gerne Rede und Antwort. Selbstverständlich kommt auch Ihr kulinarisches Wohl nicht zu kurz – dafür wird in der Mensa und im Dallmayr Café gesorgt.
Herzlich willkommen sind darüber hinaus alle Interessenten an den Master-Programmen der IUBH.  Am Open Campus Day können Sie sich nämlich genauso über das Studienangebot im Master-Bereich informieren.
Für eine Teilnahme wird um vorherige Anmeldung gebeten, klicken Sie dazu einfach hier.
Event-Details
Veranstalter:
Ort:
Mülheimer Straße 38, 53604 Bad Honnef
Datum:
09. April 2016 , 09:30 Uhr
Weiterführende Informationen:
www.iubh.de/de/ueber-uns/termine.php?ac=show&id=476