Online-Infoveranstaltung zum berufsbegleitenden MBA an der Universität Potsdam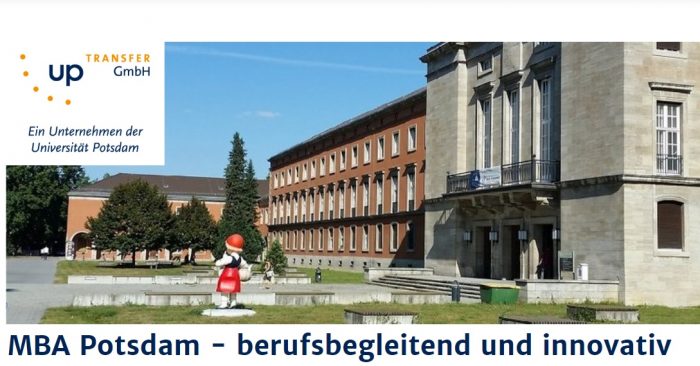 Die nächste Informationsveranstaltung der UP TRANSFER GmbH präsentiert den berufsbegleitenden Master of Business Administration (MBA) an der Universität Potsdam.
Wir stellen Ihnen die Modulinhalte, den Studienablauf und Organisatorisches vor und beantworten Ihre Fragen. Wir freuen uns auf Ihre Anmeldung unter mba@uni-potsdam.de.
Als (angehende) Führungskraft, Firmeninhaber/in oder Gründer/in ist ein fundiertes Managementwissen entscheidend für die unternehmerische Entwicklung und ihren langfristigen Erfolg.
Das MBA Studium an der Universität Potsdam verbindet die wirtschaftswissenschaftlichen Grundlagen mit einem hohen Anteil an Praxisbezug in Life Science, IT, Gesundheitsökonomie und Negotiation Management. Somit können die Teilnehmenden erworbene Management-Skills im unternehmerischen Sinne einsetzen und ihre Handlungskompetenz erweitern.
Für den akademischen Titel Master of Business Administration (MBA) haben wir fünf Branchenvertiefungen entwickelt. Diese beinhalten neben den generalistischen Grundlagenmodulen Vertiefungsmodule, die auf das Umfeld der jeweiligen Branche abgestimmt sind.
Für Mailanfragen, telefonische Beratung und die Vereinbarung eines individuellen Gesprächstermins steht Ihnen das MBA Team unter der Leitung der Studiengangleiterin Frau Dr. Roya Madani gern zur Verfügung. Wir sind für Sie da.
Zahlen und Fakten zum MBA
Zweijähriger berufsbegleitender Teilzeitstudiengang mit 90 ECTS
Fünf attraktive branchenspezifische Vertiefungsrichtungen
Durchführung auf dem Campus Griebnitzsee an der Universität Potsdam
Hochkarätige Dozierende aus Wissenschaft und Praxis
Verbesserte Karriereaussichten und ein wertvolles Alumni-Netzwerk
Persönliche Betreuung während des gesamten Studiums
Durchführung auf Deutsch
Einstieg jederzeit möglich
Systemakkreditierung der Universität Potsdam durch ACQUIN
Studiengebühren: 17.700€
Event-Details
Veranstalter:
UP TRANSFER GmbH an der Universitaet Potsdam
Datum:
06. September 2023 , 17:00 Uhr
Weiterführende Informationen:
www.up-transfer.de/weiterbildung/master-of-business-administration-mba//