MBA für einen Tag an der German Graduate School of Management and Law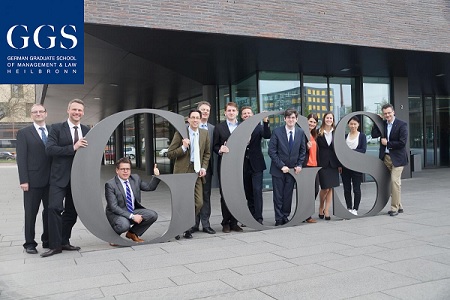 Sie fragen sich wie es wäre, einen MBA an der GGS zu absolvieren? Der Event "MBA für einen Tag" bietet Ihnen die Chance an vier studienähnlichen Kursen teilzunehmen und das MBA-Programm kennenzulernen.
Diese interaktive Lernerfahrung wird von GGS-Professoren und Mitgliedern der internationalen Gastfakultät durchgeführt. Beim "MBA für einen Tag" erhalten Sie einen Vorgeschmack auf das MBA-Programm und können erstes Management-Know-how erwerben. Während der Kaffeepausen und beim Mittagessen besteht die Möglichkeit, mit GGS-Mitarbeitern zu plaudern und die einzigartige Lernumgebung an der GGS zu erkunden.
So können Sie zum Beispiel die Vortrags- und Pausenräume, die Studentenlounge, die Bibliothek und die Cafeteria besuchen. Darüber hinaus treffen Sie Vertreter des GGS Programmbüros und der Zulassungsstelle sowie Mitglieder der Alumni Association.
Sie bekommen Einblick in die verschiedenen Forschungsprojekte der Fakultät und lernen die Inhalte der Lehrveranstaltungen kennen. Diese beinhalten Live-Cases, Firmenbesuche, ein persönliches und ein Karriere-Coaching genauso wie ein englisches Schreibprogramm.
Für die Teilnahme am Event "MBA für einen Tag" sollten Sie einen ersten akademischen Grad (Bachelor), mindestens 2 Jahre Berufserfahrung und gute Englischkenntnisse haben.
Es gibt keine Teilnahmegebühr, die Pausenerfrischungen und das Mittagessen in unserer Cafeteria werden kostenfrei zur Verfügung gestellt. Die Teilnehmerzahl ist auf 25 begrenzt und sobald diese erreicht ist, werden Sie in eine Warteliste aufgenommen und informiert, sobald ein Slot verfügbar ist.
Sie möchten dabei sein? Dann können Sie sich gleich registrieren!
Ausführliche Informationen über den MBA-Studiengang an der German Graduate School of Management and Law erhalten sie hier.
Event-Details
Veranstalter:
Ort:
Bildungscampus 2, 74076 Heilbronn
Datum:
05. Mai 2017 , 09:00 Uhr
Weiterführende Informationen:
www.ggs.de/studium/mba/