LIMAK Women and Career Day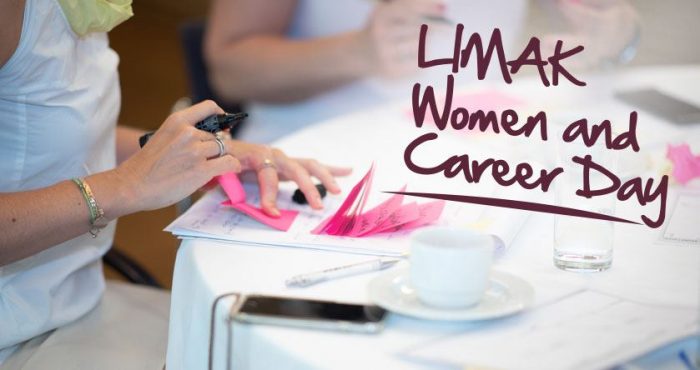 Interessierte und karrierebewusste Frauen erwartet ein abwechslungsreiches Programm sowie die Möglichkeit zum intensiven Networking in entspannter Atmosphäre.
Zu diesem Event lädt die LIMAK Austrian Business School gemeinsam mit ihren Kooperationspartnern Der Standard und Kepler Society zum LIMAK Women & Career Day Wien ein.
Das Programm des LIMAK Women and Career Day gestaltet sich folgendermaßen:
8:30 Uhr: Get-together mit Frühstücksbuffet
9:00 Uhr: Begrüßung durch Mag. Gerhard Leitner, MSc (Geschäftsführer LIMAK) und Mag.a Julia Stöger (LIMAK IN.SPIRE)
9:15 Uhr: Interview mit Mag.a Eva-Maria Huysza (Director Human Resources Dimension Data Austria GmbH) und Mag.a Claudia Ertl-Huemer (Geschäftsfeldleiterin für Education & Care Catering Gourmet GmbH. Moderation durch Karin Bauer (Ressortleiterin Der Standard Karriere).
9:45 Uhr: Workshop (Englisch) mit Janine Broekhuizen zum Thema:
"Business Model Career – Innovative approaches to design your personal career"
Jedes Unternehmen orientiert sich in der Erreichung seiner Ziele an einer ausgefeilten Strategie. Warum sollte dies nicht auch für Sie und Ihren eigenen Karriereweg gelten? Im Workshop lernen Sie innovative und anregende Methoden aus dem "Design Thinking Ansatz" kennen und wenden diese am Beispiel Ihrer eigenen Karriereplanung an. Im Fokus stehen diesmal nicht das Unterneh- men und das Produkt, sondern Ihre eigenen Visionen, Ideen und Ziele.
12:30 Uhr: Drei Einzel-Coachingsitzungen* mit Janine Broekhuizen (Organisational Development & Coaching) und Mag.a Julia Stöger (LIMAK IN.SPIRE).
*Die drei Einzel-Coachingsitzungen werden unter den ersten Anmeldungen verlost und dauern je 30 Minuten. Individuelle MBA- & Universitätslehrgangs-Beratungen sind den ganzen Tag über möglich.
Falls Sie am LIMAK Women and Career Day teilnehmen möchten, so melden Sie sich bitte zuvor an, entweder telefonisch unter +43 (0) 732 66 99 44-100 oder per E-Mail an events@limak.jku.at
Weitere Events der LIMAK Austrian Business School finden Sie hier.
Event-Details
Veranstalter:
LIMAK Austrian Business School
Ort:
Markhof Wien, Markhofgasse 19, 1030 Wien
Datum:
16. Oktober 2019 , 08:30 Uhr
Weiterführende Informationen:
www.limak.at/events/limak-women-career-day-in-wien