Informationsabend zum Young Professional MBA-Studium an der GSB Mainz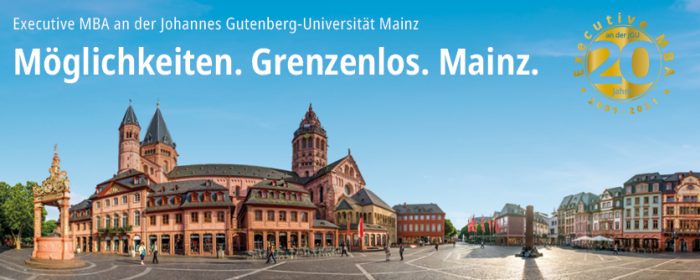 Die Gutenberg School of Business Mainz (GSB Mainz) führt einen Informationsabend zum Young Professional MBA durch.
Während der 2-stündigen Veranstaltung rund um das Young Professional MBA-Studium können sich die Studieninteressierten über den Studienablauf, die Auslandsaufenthalte und den Bewerbungsprozess informieren. Für die Anmeldung zur kostenlosen Teilnahme senden Sie bitte vorab ein E-Mail an gsb@uni-mainz.de.
Im Anschluss an die Anmeldung werden Ihnen ausführliche Informationen zu dieser Veranstaltung per E-Mail zugesandt.
Keyfacts zum Young Professional MBA-Studium an der GSB
Berufsbegleitendes Weiterbildungsstudium
Universitäres Masterstudium
Zwei Jahre
Eine Einführungswoche
General Management-Ausbildung in acht Modulen und Softskills
Eine studienbegleitende praxisrelevante Projektarbeit
Ein Studienaufenthalt an ausländischer Spitzenuniversität
Masterarbeit zu berufspraktischem Thema
Die Zulassung zum Young Professional MBA-Studiengang erfolgt durch ein persönliches Aufnahmeverfahren aufgrund von Bewerbung.
Für die Bewerbung sind neben dem Anmeldeformular (dieses können Sie unter diesem Link herunterladen) einzureichen:
eine Übersicht über den akademischen und beruflichen Werdegang,
eine Kopie des Hochschulzeugnisses,
einen Nachweis englischer Sprachkenntnisse entweder durch eine mindestens mit der Note "ausreichend" oder fünf Punkten abgeschlossene fünfjährige Schulausbildung oder
Bescheinigung eines mindestens mit einer Punktzahl von 87 bestandenen "Test of English as a Foreign Language" (TOEFL IBT), ) der Bescheinigung eines bestandenen Cambridge Zertifikats "B2: First Certificate in English" und
ggf. ein Empfehlungsschreiben des Arbeitgebers. Dieses Empfehlungsschreiben sollte auch Angaben über die finanzielle und die zeitliche Unterstützung des Bewerbers durch den Arbeitgeber enthalten.
Zulassungsverfahren
Nach Sichtung der Bewerbungsunterlagen werden die Bewerberinnen und Bewerber, die die formalen Zulassungsvoraussetzungen erfüllen, zu einem – abhängig von der weiteren Entwicklung der Corona-Krise persönlich oder online stattfindenden – Aufnahme- bzw. Prüfungsgespräch eingeladen. Bei dem ca. einstündigen Gespräch geht es in erster Linie darum, ob die Bewerberinnen und Bewerber die fachlichen, persönlichen, integrativen und mentalen Voraussetzungen erfüllen, um an dem Studiengang erfolgreich teilzunehmen. Über das Gespräch wird eine Niederschrift angefertigt. Im Anschluss an das Auswahlgespräch erhalten die Bewerberinnen und Bewerber mit entsprechender Begründung direkt Bescheid über deren Zulassung zum Studiengang.
Bewerbungsfrist
Die Bewerbungsfrist zur Aufnahme in den Young Professional MBA-Studiengang zum Sommersemester 2022 endet am 31. Januar 2022.
Event-Details
Veranstalter:
Gutenberg School of Business Mainz (GSB Mainz)
Datum:
28. September 2021 , 19:00 Uhr
Weiterführende Informationen:
gsb.uni-mainz.de/young-professional-mba/