EMBA Online Info-Session der University of Cologne Business School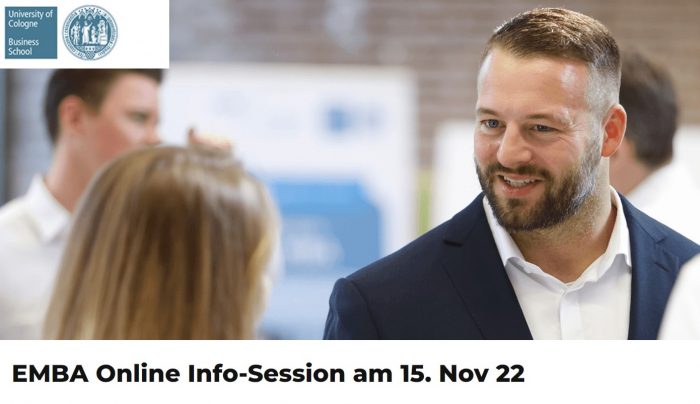 Sie wollen mehr über den Part-time Cologne-Rotterdam Executive MBA erfahren? Dann besuchen Sie unsere Online-Informationsveranstaltung.
Nach einer kurzen Präsentation des Programms haben Sie die Möglichkeit den EMBA aus Sicht von Alumni kennenzulernen und alle Ihre Fragen zu stellen.
Datum: Dienstag, 15. November 2022, Ort: Zoom (Link folgt bald), zur Anmeldung HIER klicken.
Agenda
18:15 Uhr: Registrierung
18:30 Uhr:  Information über den Cologne-Rotterdam EMBA
19:00 Uhr: Einblicke von EMBA-Absolventen/Q&A-Sitzung
19:30 Uhr: Netzwerken
Alle Fakten zum Cologne-Rotterdam Executive MBA auf einen Blick
Programm: Executive Master of Business Administration in Kooperation der Business School der Universität zu Köln und der Rotterdam School of Management, Erasmus University.
Abschluss:
Doppelabschluss: Master of Business Administration (MBA) der Universität zu Köln und
Master of Business Administration (MBA) der Rotterdam School of Management, Erasmus University
Akkreditierungen:
International Triple Crown akkreditiert (RSM): AACSB, AMBA, und EQUIS
Wirtschafts- und Sozialwissenschaftliche Fakultät (UoC): EQUIS
Cologne-Rotterdam EMBA: AQAS
Dauer: 24 Monate
Event-Details
Veranstalter:
Cologne Business School (CBS)
Datum:
15. November 2022 , 18:15 Uhr
Weiterführende Informationen:
https://www.business-school.uni-koeln.de/de/emba-info-session-02