EMBA Infoveranstaltung am Campus der Business School of University of Cologne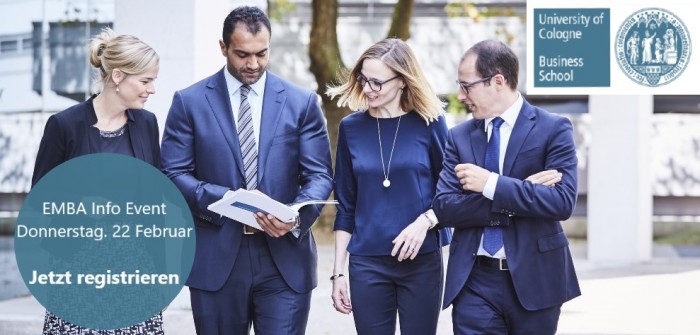 Bei dieser Infoveranstaltung erfahren Sie alles Wissenswerte über den Cologne-Rotterdam Executive MBA, einem internationalen Management-Entwicklungsprogramm zur Fortbildung von Führungskräften.
Das Studienprogramm  basiert inhaltlich auf dem etablierten und akkreditieren Executive MBA der Rotterdam School of Management, einem international führenden Anbieter von Weiterbildungsprogrammen für Lead Manager.
Im Anschluss an die Veranstaltung erwartet Sie ein entspanntes Get-together und natürlich erhalten die Besucherinnen und Besucher auch die Gelegenheit, den Campus näher kennenzulernen.
Sollten Sie an der Infoveranstaltung interessiert sein, so melden Sie sich per E-Mail an Jennifer Biesenthal (Jennifer.biesenthal@uni-koeln.de) dazu an.
Details zum Cologne-Rotterdam Executive MBA und EMBA-Voraussetzungen
Event-Details
Veranstalter:
University of Cologne Business School
Ort:
Seminargebäude der Universität zu Köln, Universitätsstr. 37, 50931 Köln
Datum:
22. Februar 2018 , 19:00 Uhr
Weiterführende Informationen:
www.wiso.uni-koeln.de/de/business-school/veranstaltungen/emba-infoveranstaltung-auf-dem-campus-1/#news14756