EMBA Info Session der University of Cologne Business School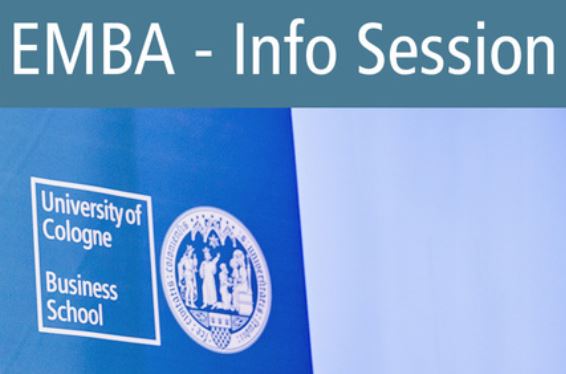 Sie wollen mehr über den Cologne-Rotterdam EMBA erfahren? Dann besuchen Sie unsere Informationsveranstaltung auf dem Campus*.
Nach einer kurzen Präsentation des Programms haben Sie die Möglichkeit den EMBA aus Sicht von Alumni kennenzulernen und alle Ihre Fragen zu stellen. Im Anschluss erwartet Sie eine Beispielvorlesung eines EMBA Dozenten. Natürlich nehmen wir uns auch in den Pausen oder im Anschluss Zeit, um alle Ihre Fragen persönlich zu klären. Wir freuen uns auf Ihren Besuch. Bitte melden Sie sich im Vorfeld hier an oder kontaktieren Sie uns unter mba-admission@uni-koeln.de.
Agenda
09:45 – Registration: Welcome to the University of Cologne Business School
10:00 – Information about the Cologne-Rotterdam EMBA by Dr Stephan Anders, Managing Director
10:45 – Insights from EMBA Alumni /Q&A Session
11:15 – Get Together – Coffee Break Chat with staff and students of the Business School
11:45 – EMBA Sample Lecture
12:30 – Q&A Session
13:30 – Networking and meet the Admissions Team
HIER geht es zur Anmeldung – das Team der University of Cologne Business School freut sich auf Ihren Besuch!
*Aufgrund der COVID-19-Pandemie gilt an unserer Fakultät seit dem 23. August 2021 die 3G-Regel (geimpft, genesen, getestet). Ungeimpfte werden gebeten, einen negativen Corona-Test mitzubringen.
Event-Details
Veranstalter:
University of Cologne Business School
Ort:
Universitätsstr. 24, 50931 Köln
Datum:
30. Juli 2022 , 09:45 Uhr
Weiterführende Informationen:
www.business-school.uni-koeln.de/de/events