EMBA Info Day am Campus der University of Cologne Business School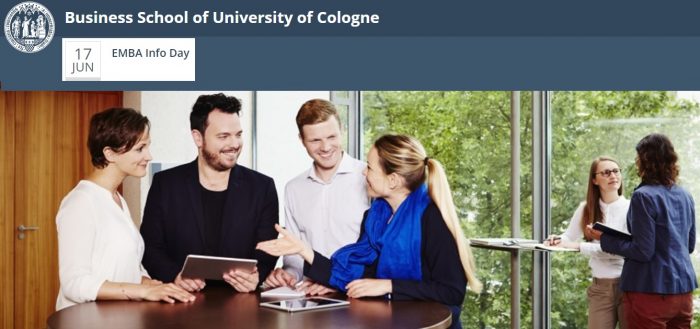 Lernen Sie den EMBA aus Sicht von Alumni kennen und nehmen Sie an einem Gastvortrag teil. Wir freuen uns Sie kennenzulernen!
Sie wollen mehr über den Cologne-Rotterdam EMBA erfahren? Dann besuchen Sie unsere Informationsveranstaltung. Nach einer kurzen Präsentation des Programms haben Sie die Möglichkeit den EMBA aus Sicht von Alumni kennenzulernen sowie an einem Gastvortrag teilzunehmen. Wir freuen uns auf Ihren Besuch!
Eine Anmeldung ist zwingend erforderlich. Bitte melden Sie sich per E-Mail an bei Jennifer Biesenthal (jennifer.biesenthal@uni-koeln.de)
Agenda
09:45 – Registration: Welcome to the University of Cologne Business School
10:00 – Information about the Cologne-Rotterdam EMBA by Dr Stephan Anders, Managing Director
10:45 – Insights from EMBA Alumni / Q&A Session
11:15 – Get Together – Coffee Break Chat with staff and students of the Business School
11:45 – EMBA Sample Lecture
12:30 – Q&A Session
13:30 – Networking and meet the Admissions Team
Vorab können Sie sich HIER die kostenlose Broschüre zum Cologne-Rotterdam EMBA herunterladen.
Event-Details
Veranstalter:
University of Cologne Business School
Ort:
WiSo Neubau, Universitätsstraße 24, 50931 Köln
Datum:
17. Juni 2023 , 09:45 Uhr
Weiterführende Informationen:
business-school.uni-koeln.de/de/cologne-rotterdam-emba/factsheet