Cologne-Rotterdam Executive MBA Open Day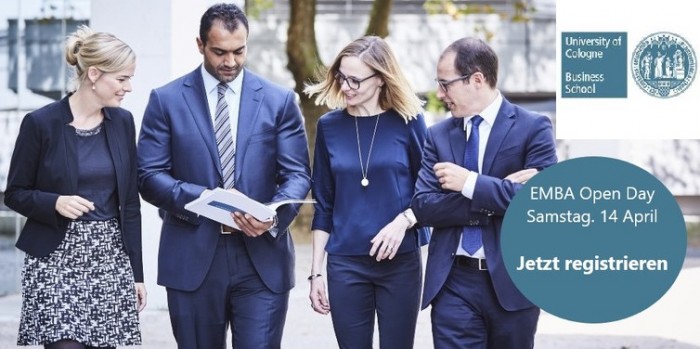 Im Rahmen des MBA Open Days haben Sie die Möglichkeit, direkt am Campus der University of Cologne und in angenehmer Atmosphäre ausführliche Informationen über das Cologne-Rotterdam Executive MBA Programm zu erhalten.
Studierende informieren die Teilnehmerinnen und Teilnehmer dabei aus erster Hand über ihre Studienerfahrungen. Sie können individuelle Gespräche führen und sich über Ihre persönliche Weiterbildung unterhalten. Darüber hinaus werden gerne die unterschiedlichsten offenen Fragen geklärt.
Agenda
10:00 Registration & Coffee
10:30 Information on the Cologne-Rotterdam Executive MBA
11:00 Insights from a student perspective
11:30 Q&A with current students
12:00 Networking break
12:30 Keynote by Executive MBA faculty member Prof. Dirk Sliwka
13:30 Get together
From 14:30 Coffee Chats with Marketing & Admissions Manager
Bei Interesse an einer Teilnahme wird vorab um eine Anmeldung gebeten. Kontaktieren Sie dazu bitte Jennifer Biesenthal per E-Mail an jennifer.biesenthal@uni-koeln.de.
Event-Details
Veranstalter:
University of Cologne Business School
Ort:
Seminargebäude der Universität zu Köln, Universitätsstr. 37, 50931 Köln
Datum:
14. April 2018 , 10:00 Uhr
Weiterführende Informationen:
www.wiso.uni-koeln.de/de/business-school/veranstaltungen/cologne-rotterdam-executive-mba-open-day-auf-dem-campus-1/