Die Business School an der University of Cologne lädt erneut zum Coffee Chat ein!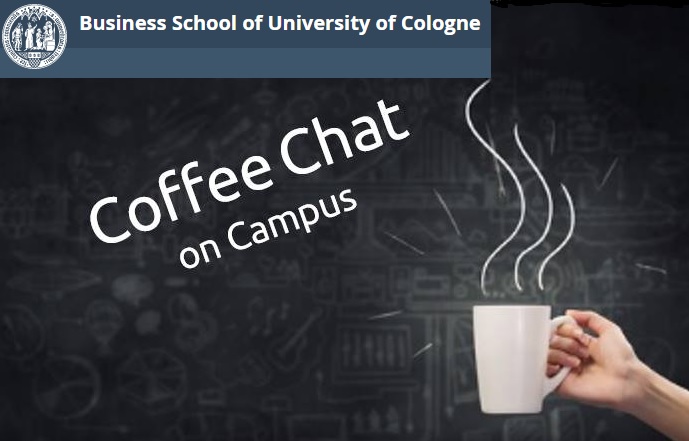 Sie interessieren sich für das Köln-Rotterdam Executive MBA-Programm an der Business School of University of Cologne? Bei diesem "Coffee Chat" erfahren Sie viele Details dazu!
Sie haben die Möglichkeit, sich in persönlichen Gesprächen über das Programm und dessen Ablauf zu informieren sowie Ihren Lebenslauf einem eingehenden Check zu unterziehen. Dazu gibt es natürlich auch ein fachkundiges Feedback.
Nutzen Sie die Möglichkeit, sich einen ersten Überblick über das EMBA Programm zu verschaffen und sich vor Ort ein Bild von der
Business School
zu machen. Selbstverständlich stehen Ihnen verschiedene Experten zur Verfügung, die gerne Ihre Fragen beantworten.
Wer am Coffee Chat teilnehmen möchte, kontaktiert zur Anmeldung und zur Vereinbarung eines individuellen Termins bitte Sabine Kuschel (Marketing- und Admissions Managerin) – entweder per E-Mail an
sabine.kuschel@uni-koeln.de
oder telefonisch unter +49 (0)221 470 7943.
Event-Details
Veranstalter:
University of Cologne Business School
Ort:
Universitätsstr. 24, 50931 Köln
Datum:
27. Juli 2017 , 09:00 Uhr
Weiterführende Informationen:
www.wiso.uni-koeln.de/de/business-school/veranstaltungen/cologne-rotterdam-emba-persoenliche-beratung-am-27-juli-2017/