Business School Consulting Day der Business School der Uni Köln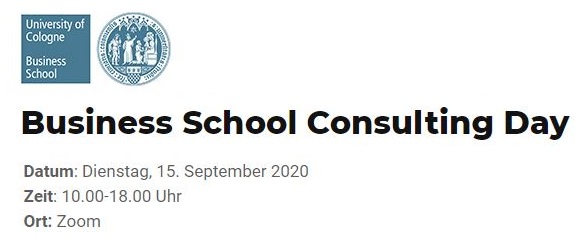 Sie wollen mehr über die Zertifikatsprogramme, Seminare oder den EMBA der Business School der Uni Köln erfahren?
Dann treffen Sie das Team der University of Cologne online! Sie sind herzlich zu einem individuellen Gespräch eingeladen und können sich dabei über die vielfältigen Weiterbildungsmöglichkeiten an der Business School der Uni Köln beraten lassen. Nutzen Sie die Gelegenheit Ihre Fragen zu den einzelnen Programmen und Seminaren zu stellen.
Bitte melden Sie sich vorab per E-Mail und geben Sie dabei Ihren Teilnahmewunsch und zugleich den von Ihnen gewählten Termin bekannt.
Senden Sie Ihr E-Mail bitte an den Marketing- & Admission-Manager der University of Cologne und nutzen Sie dazu die Adresse business-school@uni-koeln.de.
Event-Details
Veranstalter:
University of Cologne Business School
Datum:
15. September 2020 , 10:00 Uhr
Weiterführende Informationen:
www.business-school.uni-koeln.de/de/events